Meet Laura Wolk, the first blind woman to clerk at the Supreme Court, and guest speaker for this year's A Million Laughs For Literacy Gala.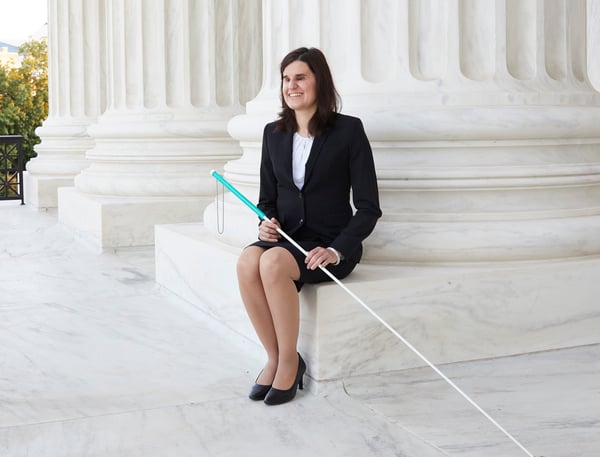 Born and raised in Allentown, PA, Laura has been completely blind since she was 15 months old as a result of retinoblastoma. She has been reading braille since she was three years old. At eight years old, she became the "Littlest Lobbyist", reading her own braille letter to Governor Ridge about the importance of enacting Braille literacy legislation:
"The most difficult thing about Braille is getting enough books. I quickly read a book and have to wait a very long time to get another one. I need more books."
She graduated from Swarthmore College in 2009 with a B.A. in Psychology before spending three years doing social work in Philadelphia assisting low-income individuals with disabilities. She then pursued a degree in law from Notre Dame Law School in 2016, where she received the Award for Outstanding Achievement in the Program of Study in Public Law.
Laura had the honor of serving as a law clerk to Associate Justice Clarence Thomas during the Supreme Court's 2019 term and now works as an associate at Kirkland & Ellis, where she specializes in appellate litigation. Today, she relies on her refreshable braille display for her work and pleasure reading.
For more than 15 years, the A Million Laughs for Literacy Gala has raised millions to support National Braille Press' Braille Literacy Programs which exist to ensure blind and visually impaired children are given an equal chance to read.
Join us at our Gala on October 14, 2021, to learn how braille has empowered Laura Wolk to defend others. Whether virtually or in person, you will be moved, inspired, and have a night of laughs!
To learn more about the night's lineup, including a comedic performance by Ryan Hamilton and purchase tickets visit our gala page.
We love to hear from you, leave your comments below.