Erin Connors & Katie Carvalho Running the Marathon for braille literacy & NBP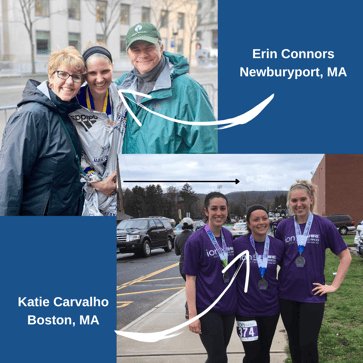 (Boston, MA) – December 14, 2022 – National Braille Press (NBP) announced today that Erin Connors and Katie Carvalho have committed to run the 2023 Boston Marathon® in support of braille literacy and NBP. These volunteer runners are helping NBP to support braille literacy by running in the Boston Marathon on Monday, April 17, 2023.
"We are thrilled to have Erin back with us to participate in this year's Boston Marathon® and welcome Katie to this year's team," said Brian Mac Donald, President of National Braille Press. "We look forward to cheering them on as they run the 26.2 miles from Hopkinton to Back Bay."
In preparation for the 127th Boston Marathon®, Erin and Katie are training in addition to raising funds to support all of NBP's Literacy Programs including the distribution of the free ReadBooks. The ReadBooks braille book bags contain essential braille introductory material for children and their parents, the Children's Braille Book Club, and the book-of-the-month club.
Only 28% of blind children have access to reading materials for pleasure reading and Erin and Katie are working to raise that percentage through the miles they run and the money they raise. Erin, a Newbury, MA resident is a five-time NBP Marathon Team member, a National Braille Press Trustee and is an Associate Director at Vertex Pharmaceuticals.
After joining NBP's Board of Trustees in 2019, Erin saw the dedication and commitment that NBP provides to the blind and visually impaired community.
"Braille is Literacy! My first job after college was working in the blind community, where I met Joe Quintanilla. I started running as a guide for Joe, ran the Vision5K, and ran on behalf of NBP for the first time in 2013. Excited to continue raising awareness for this important cause," said Erin.
Katie, a Boston resident who is from Andover, CT, and long-time National Braille Press volunteer, has worked at Liberty Mutual Insurance as an actuary since graduating from Bentley University in 2017.
Katie became aware of NBP through the Liberty Cares volunteer event and has since been working to bring awareness to braille literacy.
She has assembled braille books and served on the silent auction committee for NBP's annual A Million Laughs for Literacy Gala for the past three years.
Katie is a passionate reader and feels a strong connection to NBP's mission to provide the same access to books to the blind community. "I have always been an avid reader and would feel a really big hole in my life if I wasn't able to read. So, I love that the National Braille Press makes literature available for the blind and is such an advocate for the blind community," said Katie.