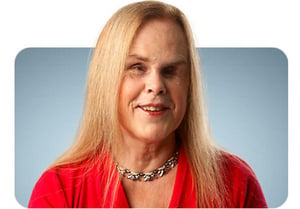 Since 1927, Our Special (OS), a bi-monthly magazine written and edited especially for blind women has been one of our most popular publications. OS contributors are blind women, and covers career issues, fashion, parenting, cooking, maternity, dating, health, and a panoply of other women's issues. We are very pleased to announce our newest column, Kendrick Insight, written by award-winning writer, editor, and poet, Deborah Kendrick.
Kendrick has dedicated her writing career to disability rights advocacy. In 1986, she launched a weekly column, 'Alive and Well," in the Cincinnati Enquirer, the first of its kind to focus on disability rights. The column ran for 30 years in a variety of newspapers including syndication by King Features, enjoying its longest run in the Columbus Dispatch.
In 1985, she created TACTIC, a quarterly magazine covering access technology, which enjoyed international readership. She served as editor until 2000, when TACTIC was subsumed by the American Foundation for the Blind to launch AccessWorld, where she continues as senior features editor.
She is the author of Navigating Health Care When All They Can See Is that You Can't and When Your Ears Can't Help You See, both published by National Braille Press.
Her most treasured awards include the Maurice McCracken Peace and Justice Award, the AFB Access Award, the Inclusion Network Lifetime Achievement Award, and the EDI (Equality Dignity Independence) Award from the National Easter Seal Society. She has served on numerous nonprofit boards and governor-appointed councils, most recently Guide Dogs for the Blind and the Cincinnati Association for the Blind and Visually Impaired.
The first installment of the Kendrick Insight column will be featured in the September/October issue of Our Special. For subscription information visit the our special page here.
We welcome your feedback. Please leave a comment below: