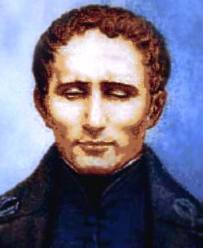 January is Braille Literacy Month, and this year we celebrate 209 years since the birth of Louis Braille.
If he could only have seen the future of braille. As a young man and an educator, Louis was determined to push forward his tactile code of raised dots. He knew the potential it had for literacy, music and mathematics. Unfortunately, this six dot genius, like many famous artists, died before his work of art (braille) could ever be adopted or appreciated.
If Louis could look down from the heavens, he could see the honors and tributes for his legacy that have occurred worldwide. Statues, postage stamps, plays, musicals, commemorative coins in Belgium, India and the USA… and Asteroid 9969 Braille was named in his honor back in 1992. Encyclopedia Britannica even included him as one of the top 100 inventors of all time.
Louis would have been thrilled to see the millions of pages of braille that National Braille Press produces every year, and as an educator he would have marveled at the simplicity of transparent braille pages we created for our children's braille print books We believe that as an inventor, Louis would certainly appreciate the chance to get his hands on a refreshable braille display!
Throughout the years, many intellectual luminaries have recognized the vital role that braille literacy plays in equality for blind individuals. In 1952, prominent poet T.S. Eliot wrote an essay called Some Thoughts on Braille. Eliot said that poetry was meant to be heard and read, and he said that one's appreciation for poetry would be limited if there wasn't access to the printed word. He mentioned that the ability to read independently allowed a person to be intimate with a poem. Eliot said that he was "thankful for the invention of braille as a tool to enable the blind to be able to read to themselves as well as be read to."
As NBP rings in 2018, one of the resolutions we have is to advocate harder than ever for the future of braille. We want children and adults to understand the freedom, potential, and independence that braille can provide for the rest of their lives. We will continue to make the most affordable, high quality braille materials possible for children and adults. . Like Louis, we will be as determined as ever to find solutions for low-cost digital tactile graphics and e-braille to keep braille connected to the digital world in every way.