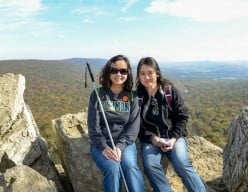 As a student, and then as a student teacher, Harriet Go was told she wasn't going to be able to become a teacher because of her blindness. By adapting her classrooms to her abilities, and with the help of braille, Go has proven them wrong and has been a teacher for 15 years. This year she and her sister, Heather, formed the team H&H Go for Braille Across America.
Go Attended St. Lucy School for Children with Visual Impairments in Philadelphia when she was a child, before she began taking classes with sighted kids in third grade. It was at the St. Lucy school that she learned to read braille.
"Why I wanted to become a teacher is because of the positive role models I had at St. Lucy's." Go said. "Funny enough, all my teachers were sighted at my school for the blind. How they taught me and how they cared about me as a student is really what influenced me and made me decide to become a teacher."
After graduating from St. Lucy's, Go went to high school with sighted students and then attended Temple University for college.
"I did really well in both high school and college, and one of the main reasons that contributed to my success is the ability to read and write braille," Go said. "I see braille as a door-opener, an opportunity-opener. To be braille literate is the equivalent to being literate."
Entering the education field, Go had to open more doors for herself by proving that being a blind teacher of sighted students could be done.
"I worked as hard and even harder than all the other student teachers in my courses and I did everything that I could to make things accessible for myself," she said. "I tried to go the extra mile because I had to. I had to show other people that i could find alternative strategies to accommodate myself as a student teacher and as a fully licensed teacher in the future."
Go knew that she would be able to develop strategies for herself to make teaching possible for her. She just needed the opportunity to develop them. She said she was able to come up with some as a pre-service teacher and used them effectively when she got her first teaching job.
"One simple one is when students raise their hand, they say their name as well. I use assigned seating so I know where students are. I have assigned spots in line. I teach students to be descriptive. So I start with an item, maybe a drawing or a stuffed animal, and I teach them how to describe them. It's a great way for them to use their language skills."
The most important method, Go said, is to be open with her students. She's honest with them about her blindness and they feel like they can talk to her as well.
"I explain to them what it means to be blind and that there are certain things that I do and certain strategies I use," Go said. "I show them my white cane, my braille books, and how my phone works, with voiceover. I use that as an opportunity for them to understand, and they know that they can ask questions."
"We also develop trust, so I help instill respect in the students," she added. "Being able to trust each other is the foundation of having good classroom management. I think that's true for blind and sighted classrooms alike. Just doing those foundational things, that is the building blocks to establish a positive classroom management."
Growing up, Go had access to some braille books at her school for the blind, but otherwise they were hard to find. Now, she's able to use books from the National Braille Press to read to her students.
"I learned about it [about the Braille Press] about 15 years ago," she said. "I subscribed to the children's braille book club. I can read independently to my students. They're usually popular children's books, so I get monthly braille books that I can use in the classroom."
Go signed up for Braille Across America when she found out about it via an email, and is using it as an opportunity to spend time with Heather as well.
"I thought this was a great way to get back into walking and jogging, because we've been so sedentary during the pandemic," Harriet said. "A lot of families benefit from the braille press and this is a great way to raise funds for this cause. My sister is into hiking and jogging as well. Before the pandemic I was a runner."
"Braille is one of the keys to becoming independent and leveling the playing field for people with blindness, Harriet added. "[My sister and I] want people to see how braille is a vital tool for people who are blind and the National Braille Press is helping people get the opportunity to get ahold of this tool."
To donate to team H&H Go to support Braille Literacy through resources and programs at National Braille Press visit their team page here.
We love hearing from you, leave any blog comments below.