Ruben Rincon, Jr. and his team, Dashin' Dots, are participating in Braille Across America from Texas. He's been learning braille since last August with the goal of going back to his job.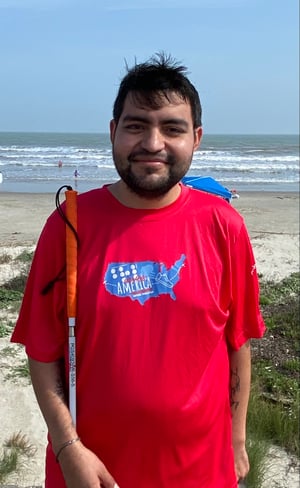 Rincon had been a teacher of Spanish and music for eight years across levels from kindergarten to 12thgrade, before diabetic retinopathy and glaucoma rendered him unable to continue. He is legally blind.
"I can read magnified text and inverted colors, but not for very long and not very fast," Rincon said. "That's why braille is important to me, it'll help me get back to being employed."
It was in March of 2018, when Rincon started to lose vision and underwent surgeries. Last summer he turned to the Hadley Institute to work on learning braille.
"I finally have become comfortable with uncontracted braille," Rincon said. "I'm understanding sentences now. Contracted braille has a lot of challenges. I'm probably going to finish the course by May, but to be really comfortable [reading], probably in the fall."
When he began to lose his sight, Rincon tried to work through it and continue teaching at his elementary school, but he soon recognized that he needed to step away from it for some time.
"When it all started, the school I was working at was trying to be very supportive, but I wasn't sure what I needed and what skills I needed to build," Rincon said. "Everyone's been supportive, I've just had to figure out things my way. I'm working on that but I'm still figuring things out."
In addition to learning braille, Rincon is also in graduate school at the University of Texas in San Antonio, studying early childhood and elementary education. He's been using YouTube as well for some skills, such as using a white cane.
Rincon bought some books from the National Braille Press, including Just Enough To Know Better by Eileen Curran and some Dr. Seuss books in order to practice as he picked up braille reading. From there he learned about Braille Across America, and signed up with some friends. He said he intends to continue participating each year.
"These are the closest group of friends who have been supporting me emotionally and giving me advice, searching through resources for me," Rincon said. "They're the core group of my friends who have been there for me since this started. That's why I asked them to join, I knew they would be all for it."
Of Rincon's friends participating in the team, one is a literary specialist, one is a librarian, and the third is a music teacher. Rincon has been doing his walking for Braille Across America on Galveston Island, where he lives.
"I walk around the high school four times and that's about two and a half miles," he said. "I like that because it's an open area and has good sidewalks."
"The opening day I walked on the seawall," he added. "On cloudy days or with sunglasses on, I can see the waves rolling to the sand. It's nice to be outside to listen to it. It's a nice environment to be at the beach."
The Dashin' Dots team has raised over $600 and ran 36.59 miles! To support Ruben or any of our other team members, visit our page here!
We'd love to hear from blog readers like you! Leave comments below.