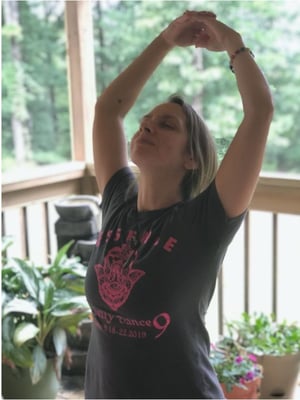 Meet Jillian Ricks, the founder of Jillian's Healing Arts Center, TN's leading holistic center offering wellness for the mind, body, and spirit.
On January 23, she'll be leading an accessible, virtual yoga fundraiser called Bend for Braille for the National Braille Press.
Jillian is blind, and her style of yoga is like no other. Ricks started dancing when she was just three years old. She has always been drawn to movement-based activity, so when in college, a friend invited her to a yoga class, she joined. She became instantly "hooked."
"The teacher could say to go into triangle pose and I would just know what that is," Ricks said. "I didn't need to see. I loved how with each pose, they would connect the breath to it and it would settle my mind. That's why I loved it so much."
After college, she took a nine-month course on how to be a yoga teacher. Now with a decade of teaching experience, Ricks has evolved her style of teaching to draw from her dancing as well. Her students close their eyes and don't need to worry about how they look.
"I'll say something like act like a monkey, and it'll be different for everyone. Or I'll say turn your arms into seaweed. Your eyes are closed so its how seaweed might feel for your body. Allowing your body to try to match those images of texture. It changes the idea that you need to see to do yoga."
Ricks had learned some belly dancing as well before beginning yoga, and she drew some of her movement ideas from that and combined them into her yoga. She said the movement is similar but not the same, as they come from different Asian cultures (yoga is from Indian origins and belly dancing has Arabian roots).
"Because the belly dance warm-ups are very similar to yoga, I would get on my own mat and be ready to practice by myself," she said. "I'd start doing yoga and it would turn into a little shaking, then back to yoga. I followed what my body was feeling. Since they were similar, I took away those boundaries."
It was a slow incorporation of these other ideas and movements into her own classes as Ricks developed her unique brand of yoga. Once, she did, people quickly came to enjoy it.
"[People] started finding that the yoga classes would help relieve tension and stress, and relieve their mind and bodies a little easier. They'd be more relaxed when they were leaving class. Some people told me it felt like they were in a different world and they'd have to come back into their body to leave class. It turns into a meditative experience."
In her community in Tennessee, Ricks has filled her classes from when she was doing sessions in churches and dance centers, to her own center when she opened it up, to virtual sessions due to the COVID-19 pandemic.
Since going virtual, Ricks has been doing one donation-based yoga class each week. Half of the donation proceeds she gives to the National Braille Press.
"I wanted to give back to an organization that means something to me," she said. "I reached out because I wanted to offer more to the blind community because it's very isolating right now and I know that yoga and a lot of other services I offer would be beneficial."
Ricks has been reading braille books since she was a kid, and used braille books to get through college, yoga, school, massage therapy school, and natural health school.
"I had to have something I could feel to spell each of the muscle groups or learn the names of the yoga poses," Ricks said. "Now, just having braille to label my spices or read to my children, I don't know what it would be without that, it would be heartbreaking. I'm grateful to the Braille Press for making it affordable."
It wasn't for a while that Ricks realized that the braille books she was reading were coming from one organization in Boston. She said she was looking through her old books and found the Lion King, the first book she owned, and found that it was from the National Braille Press.
It was another memorable moment in her life when she had been dating someone for a month, and he knew she liked Harry Potter. While usually the braille version of books comes out later than the print versions, he found that the National Braille Press was releasing a braille version of Harry Potter and the Deathly Hallows, the series finale, on the same day as the print version. He pre-ordered the book for her.
"I was telling him that the book was coming, out and I was excited but wouldn't get to read it when everyone else was," she said. "[After he ordered the book for me] it made me know that this is a really special guy because he went out of his way to make sure I got the book on the same day that he got the book."
The two are now married and have two children. When she is not working as a massage therapist and yoga instructor, Ricks can read to her children, with the help of braille.
If you'd join Jillian at Bend for Braille on January 23rd at 10am EST, visit the event page. Every $35 ticket purchase helps support braille literacy and access to braille materials for the blind community.
We'd love feedback about our blog. Just leave any comments below!